On a very wet Saturday morning in November 2018 a team of community volunteers turned out near the Wheatsheaf Farm in Woolsington to plant 5000 crocus bulbs.
Coincidentally, almost 100 years to the day, in November 1918, the Parliament (Qualification of Women) Act 1918 was passed, allowing women to be elected into Parliament. Ten years earlier, Emmeline Pethick-Lawrence, the co-editor of the Women's Social and Political Union's newspaper, Votes for Women, had designed the suffragettes' colour scheme of purple for loyalty and dignity, white for purity, and green for hope.
Local Councillors were pleased to support the idea of planting a lasting tribute to the British Suffragette Movement and their founder Emmeline Pankhurst. Using the natural green background of the grass verge, purple and white crocus were planted in a striped formation to form a perfect suffragette flag.
Unfortunately, in 2020 the original crocus flag was damaged during Highways signage works, ruining the design and display.
However, through the determination of the Parish Council and Woolsington Residents' Association, together with great support from the City Council's Ground Maintenance team, a new 'flag' was designed and planted in a nearby location.
March 2021 and the new flag is showing for the first time. Now we have hope; hope that every spring this flag will emerge and remind us all of those brave suffragettes, many of whom were imprisoned, and what they achieved for women's rights in Britain and beyond.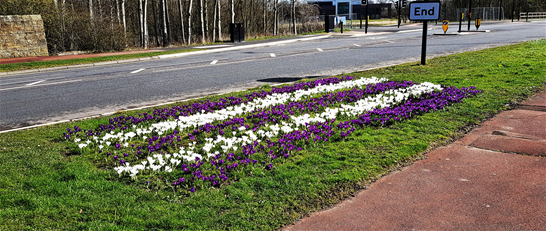 Crocus flag March 2021: designed as a special tribute to the Suffragettes